Upgrade Me : Freelance to Employee
If you've fallen for the company you're freelancing for, make a game plan to get in with the in-crowd! Read more on how to make your staff dream come true. The article below on transitioning from freelancer to employee was originally published by lifehacker.
How to Transition from Freelance Work to a Full Time Position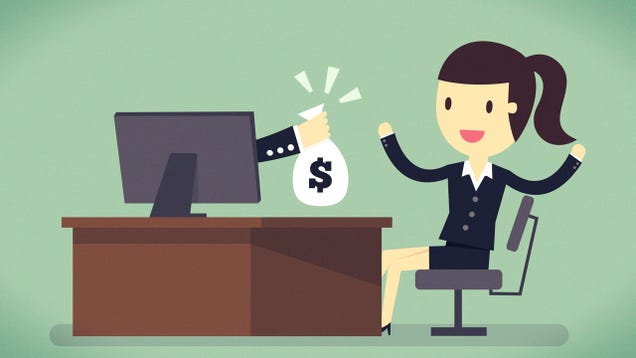 As appealing as the freedom of freelancing can be, it's also a challenge, and sometimes you find yourself wanting to stick with one of your freelance clients for good. The company culture, the ability to focus on one client, the coworker camaraderie—there are lots of reasons to transition from freelancer to employee. But how do you convince them you should be on staff?
Whether you're doing minimal, part-time freelance projects for this client, or you're working close to a full-time schedule as their freelancer, there are several concrete steps you can take to turn a freelance client into a full-time employer.
1) Shift the Client's Focus from Your Results to the Whole Package
One of the key differences between being a freelancer and being an employee is how employers view your work. Freelancers are evaluated on results alone, whereas employees are evaluated on commitment, methods, personality, teamwork, hours worked, and so many other variables.
"Freelance work is often deliverable-based, while with full-time positions, managers want to make sure that you're fully committed to do as much work as it takes to perform the job," says Kathryn Hawkins, co-founder and principal at Eucalypt Media. Early in her career, Hawkins made the transition from freelancer to employee at gimundo.com, a site focusing on positive stories, which she and her husband have since purchased and are now running.
Hawkins advises freelancers who want to be employees to dig deeply into the assignments they're given, to prove they are reliable and valuable beyond their results. "Even before bringing up the possibility of a full-time role, make sure that you're taking on all assignments requested, finishing them by the deadlines, and doing what you can to make the manager's job easier," she adds.
2) Treat Their Team Like Your Own
Once you're putting your full effort into every assignment, treat the company's team like it's your own. If you want these people to be your coworkers, act that way. Get to know them—their hobbies, interests, families—as much as possible. Offer your help, expertise, and guidance when appropriate. If you're invited to casual work functions like Thursday night happy hours, attend.
And don't forget to let them get to know you—be open to sharing about your own interests, with the ultimate goal of forming strong working and friendly relationships. And though it shouldn't necessarily be your goal, one of the big benefits of getting cozy with the team at your freelance client is getting the inside scoop on staffing and hiring at the organization, which brings us to step number three.
3) Pay Attention to Internal Shifts in the Client's Staffing
Whether you see that someone is leaving their position, or you start to notice your client's team is overloaded with work, pay attention to key details that signal a potential opening for a full-time role.
Advises Hawkins, "If you get wind that a staff member is leaving, it could be a great time to bring up the possibility of stepping in. But even if you don't have such a clear-cut sign, keep an eye on how much work is coming in and how overloaded the internal team is, and consider sending your contact a proposal for what you might be able to accomplish as a full-time employee. The best time to get in the door is before a job listing has been drafted, so make sure to act fast."
4) Have the Conversation
Once you've put the first three components into place, schedule a sit-down with your client about the possibility of coming on full-time. Approach this conversation carefully—they may be unaware of your interest and not able to react as quickly as you'd like. View this as the start of a longer conversation, because it's likely to take multiple discussions before you're finally offered a full-time role. The goal of this opening bid is to plant the idea of you transitioning from freelance to full-time, and then to give your client time to digest what you've offered.
Hope Alcocer, a New York-based marketing professional who transitioned one of her freelance clients into her full-time employee, recommends, "It's important to have an honest, open conversation before making the transition as both parties need to be happy. You won't put your best foot forward and give 110% if you aren't satisfied with the set up." Alcocer went from freelancer to marketing manager at Korrect Music Software in 2014.
As the conversation progresses, be up front about your hopes for a full-time position and be ready to discuss details. What salary range do you have in mind? Do you want to keep working from home or move into the office? What will your title be and to whom will you report? Lots of details have to be hammered out before a final agreement can be reached.
Be realistic about the process, knowing that it will take some time and intentionality on your part. Make your ultimate goal to prove your worth by taking on more projects, offering help, embedding yourself with their team, and starting a conversation with your client. The more you "act as if" you're a part of the team, the more your client will see you that way, ultimately realizing that it's in their own best interest to make it so.
Realism is key—you can make yourself appealing to your client as a full-time employee by following these steps, but there's never any guarantee that they're looking to hire.